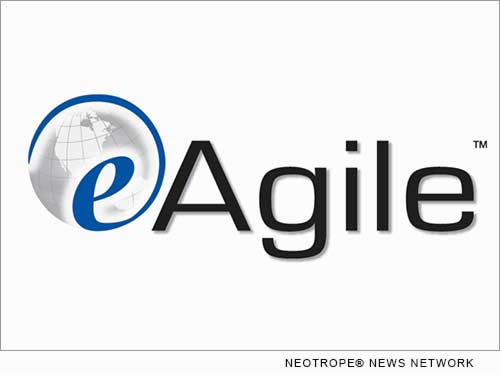 GRAND RAPIDS, Mich. /eNewsChannels/ — NEWS: Leading U.S.-based RFID specialist eAgile Inc. today announced their eTap(TM) solution for an intelligent packaging solution for consumer products utilizing near field communication (NFC). This announcement is concurrent with Apple (NASDAQ: AAPL) news that the new iPhone(R) 6 will join the rest of the smartphone marketplace incorporating NFC capabilities.
The current marketing surrounding NFC is focused on mobile payments but there is a much broader use for this technology which connects manufacturers with consumers to provide robust product information.
NFC technology can be used to open up a direct line of communication between businesses and their end customers in a manner which was previously not available. NFC-enabled tags on products provide immediate access to valuable information such as product authenticity, safety and other key information. This functionality is important for all products, especially those intended for human consumption in the medical, food and beverage markets. NFC technology is positioned to be a key component in the Internet of Things (IoT) movement, which links people and organizations to the products and services they use through the internet.
"eAgile's solution helps brand owners build trust and loyalty by establishing a dialog with their customers. eTap NFC tags can be created to launch specific web pages, videos or social media content through a quick tap of a smartphone," states eAgile President Peter Phaneuf. "Businesses of all sizes are already putting NFC technology to work to improve the customer experience and we are excited to expand our NFC-based products to the greater marketplace." eAgile is one of a few companies with the infrastructure and experience already in place to help businesses gain easy access to NFC.
"NFC products are easy to use, functional and fun, which are key aspects for broad adoption of this technology," explains Gary Burns, CEO of eAgile. "Research has shown that customers are 12 times more likely to use NFC than a QR code. Our eTap solution becomes the perfect way to communicate with consumers and compete in an increasingly information driven marketplace." eAgile offers many patented solutions for brand protection, inventory and high volume production incorporating NFC tags.
About eAgile Inc.:
eAgile, based in Grand Rapids, Mich., sets the industry standard in RFID solutions by providing high quality, cost effective auto-identification products, hardware and software solutions that are finely tuned to customer needs. eAgile has one of the broadest ISO 9001:2008 certifications, which covers tag production, data management software and the building of complete RFID infrastructures. This unwavering commitment to innovation, quality, service and customer-focused solutions drives every aspect of the business and has helped establish eAgile as a technological leader.
Find out more at http://www.eAgile.com/ .
This version of news story is Copr. © 2014 eNewsChannels™ (www.enewschannels.com) and the Neotrope® News Network – all commercial and reprint rights reserved. Unauthorized reproduction in whole or in part without express permission is prohibited.