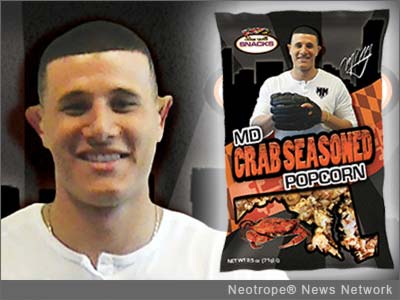 WESTMINSTER, Md. /eNewsChannels/ — NEWS: Just in time for a new baseball season, Home Team Snacks announces a new addition to its snack roster lineup – Maryland Crab Seasoned Popcorn. Endorsed by professional baseball player, Manny Machado, this popcorn blend is sure to score on the big boards.
Of course, it's not just for baseball fans. It's a snack for anyone, anytime. Whether watching a movie or tailgating at a favorite sports event, Maryland Crab Seasoned Popcorn is made to hit the spot.
"We're very excited that Manny has agreed to get behind our new snack product," Marc Heyman, co-founder, Home Team Snacks, says. "This one-of-a-kind popcorn is sure to become a fan favorite."
Maryland Crab Seasoned Popcorn joins three other Home Team Snacks' favorites: Crab Curls with Cheese, Crab Seeds and Pure Purple Power energy drink. It's sure to be a winner.
"There's no other popcorn that tastes anything like ours," Heyman says. "It can only be described as 'incredible.'"
Available for wholesale and retail, this highly anticipated new snack product will be on the market by June 1. Snack fans will be able to find it in supermarkets, convenience stores and other retail outlets throughout Maryland.
To learn more about Home Team Snacks and their delicious snack products, visit: http://www.hometeamsnacks.com/ .
About Home Team Snacks:
Started by passionate Baltimore sports fans, Home Team Snacks is the realization of a dream to create locally inspired, but massively appealing snacks. Founded by Marc Heyman and Jeff Hinton, Home Team Snacks is dedicated to producing unique snacks that not only tout local pride, but also give back to the community through various charities. Home Team Snacks offers traditional flavors of Maryland in entirely new formats.
This version of news story is Copr. © 2014 eNewsChannels™ (www.enewschannels.com) and the Neotrope® News Network – all commercial and reprint rights reserved. Unauthorized reproduction in whole or in part without express permission is prohibited.