WASHINGTON, D.C. /eNewsChannels/ — Today, the U.S. Department of State announced selection of Mr. Salih Yuce of Turkey as July's International Exchange Alumni Member of the Month. Throughout July, Mr. Yuce's passion for cancer research and youth cooperation will be featured on the International Exchange Alumni website, the Bureau of Educational and Cultural Affairs' official website for more than one million Department-sponsored exchange alumni worldwide. Salih Yuce's International Visitor Leadership Program exchange in the United States provided invaluable experience for his advocacy and awareness projects in Turkey.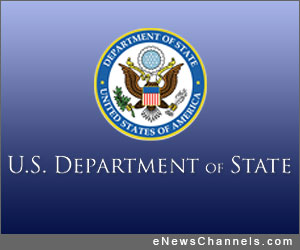 Salih drew on insights as a cancer survivor as well as his exchange experience, and introduced cancer patients in Mus to dance, film, and photography through the Open Dance Studio Project. Sponsored by the U.S. Embassy in Ankara, the Open Dance Studio Project team performed at the opening ceremony of International Oncology Days festivities, filmed a documentary, and organized "Catch the Movement," an online photography contest.
Salih received a grant from the U.S. Embassy to bring two American speakers to Mus for the 6th annual International Oncology Days. Influential members of the scientific community shared best practices in combating cancer with representatives from the parliament, European nations, non-governmental organizations, youth-centric institutions, media, and the U.S. Mission. Participants from approximately 25 countries attended, fostering dialogue among experts from diverse cultures and backgrounds.
Salih organized the "Youth Train" project which brought together youth from Turkey and Armenia to learn more about one another's culture through folk dance and discussions. His contributions were recognized by Turkey's Prime Minister, Recep Erdogan in May 2013.
International Visitor Leadership Program: http://eca.state.gov/ivlp
International Exchange Alumni: https://alumni.state.gov/featured-alumni/member-month