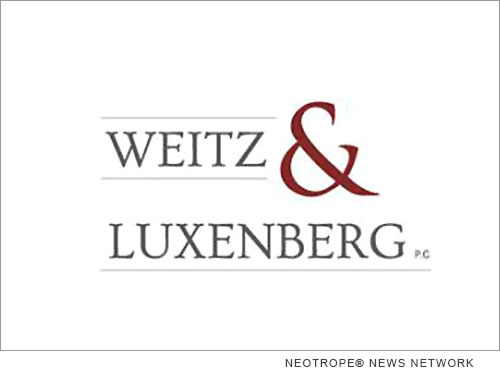 NEW YORK CITY, N.Y. /eNewsChannels/ — NEWS: A New York jury on Tuesday returned a verdict against Ford Motor Co. and awarded $11 million to a New York mesothelioma victim represented by the law firm of Weitz & Luxenberg. It did not take the jury long to find that the automaker acted with reckless disregard for the safety of – among others – Arthur H. Juni, Jr., and that Ford bore nearly half the blame for Mr. Juni's death.
Weitz & Luxenberg assembled a powerful team of trial litigators to shepherd the case through to victory. Members of that team included attorneys Benjamin Darche, Adam Cooper, and Jerry Kristal.
An automobile mechanic throughout his working years, the retired Mr. Juni died of mesothelioma in March after an agonizingly painful battle with the cancer that was diagnosed in 2012.
Mr. Juni, a New York resident, initiated his lawsuit against Ford soon after he was diagnosed with mesothelioma.
He accused Ford of causing his mesothelioma by failing to warn that certain Ford automotive parts contained asbestos and that breathing asbestos posed a significant health risk.
Asbestos – utilized in brakes, clutches, and engine gaskets – causes mesothelioma in people who inhale the toxic mineral, Mr. Juni asserted in his lawsuit.
Mr. Juni, 74, passed away just before the lawsuit reached the trial phase in New York Supreme Court. The case is Docket No. 190315 – 2012.
Died Before Trial Started:
Weitz & Luxenberg assembled a powerful team of trial litigators to shepherd the case through to victory. Members of that team included attorneys Benjamin Darche, Adam Cooper, and Jerry Kristal.
Eight million of the $11 million award was to compensate Mr. Juni for his pain and suffering, Weitz & Luxenberg said.
The remainder of the total goes to Mr. Juni's wife, Mary Jo, for her loss of services and consortium resulting from Mr. Juni's cancer.
Weitz & Luxenberg's triumph over Ford on behalf of Mr. and Mrs. Juni clearly was impressive. However, it did not come easily, the firm confided.
"Ford was a very tough defendant represented by very capable lawyers," Mr. Kristal explained. "But we were able to succeed by preparing ourselves extremely well for trial.
"We presented clear and compelling evidence and our law group exhaustively researched case-law to bolster our arguments."
Riveting Testimony:
Arthur H. Juni, Jr., began his career as an auto mechanic in 1965. He regularly worked for decades on Ford asbestos brakes and clutches, and frequently removed and replaced Ford asbestos engine gaskets.
The Weitz & Luxenberg case on behalf of Mr. Juni sought to prove that his handling of those automotive products unknowingly exposed him to asbestos and caused him to develop mesothelioma, the firm said.
In 2012, Mr. Juni noticed a troubling deterioration in his health. Alarmed by a chronic cough and pain in his chest, he sought medical attention.
On June 25 of that year, Mr. Juni was diagnosed as having malignant pleural mesothelioma, an unusually aggressive form of cancer that begins on the layer of tissue surrounding the lungs, said Weitz & Luxenberg.
His quality of life rapidly declined as the disease grew and violently spread. For most of the next two years, Mr. Juni endured pain – often agonizing and debilitating, according to his testimony, his wife's testimony and the medical records introduced into evidence.
Mr. Juni succumbed to the cancer on March 15, 2014.
Aware of the terminal nature of mesothelioma, Weitz & Luxenberg three days earlier recorded Mr. Juni's testimony on videotape in order to preserve it for the upcoming trial.
The testimony was taken under oath at his home in Nanuet, New York.
At trial, the video of that testimony was played back on large television monitors for viewing by the jury.
"Mr. Juni's videotaped testimony was chilling," said Mr. Cooper. "Mr. Juni was an excellent witness testifying, as did Mrs. Juni, under very difficult circumstances. Both were very compelling witnesses."
Mr. Darche agreed and said that the jury found the testimony of the Junis – as well as the other evidence offered – to be persuasive.
"Justice was served by this verdict," he said. "This terrific family was torn apart by mesothelioma. The verdict holding Ford responsible was a tiny measure of recompense for their suffering."
About Weitz & Luxenberg:
Founded in 1986 by attorneys Perry Weitz and Arthur Luxenberg, Weitz & Luxenberg, P.C., today ranks among the nation's leading law firms. Weitz & Luxenberg's numerous litigation areas include: mesothelioma, defective medicine and devices, environmental pollutants, accidents, personal injury, and medical malpractice. Victims of accidents are invited to rely on Weitz & Luxenberg's more than 25 years of experience handling such cases. You can contact the firm's Client Relations department at 800-476-6070 or at clientrelations@weitzlux.com.
More information: http://www.weitzluxenberg.com/ .
This version of news story is Copr. © 2014 eNewsChannels™ (www.enewschannels.com) and the Neotrope® News Network – all commercial and reprint rights reserved. Unauthorized reproduction in whole or in part without express permission is prohibited.