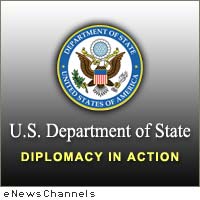 WASHINGTON, D.C. /eNewsChannels/ — The U.S. President's Emergency Plan for AIDS Relief (PEPFAR), led by the Office of the Global AIDS Coordinator in the U.S. Department of State, and Becton, Dickinson and Company (BD), a leading global medical technology company, today announced Labs for Life, a new collaboration to help strengthen healthcare and laboratory systems in the developing world along with U.S. Department of Health and Human Services' Centers for Disease Control and Prevention (CDC).
The new collaboration, valued at $20 million, builds on a prior five-year public-private partnership between PEPFAR and BD that focused on improving overall laboratory systems and services in sub-Saharan African countries severely affected by HIV/AIDS and tuberculosis.
Labs for Life will include Uganda, Kenya, Ethiopia and Mozambique and also expand outside of Africa to India.
A five-year agreement, Labs for Life builds on the success of the initial laboratory strengthening program and will focus on:
* Quality improvement for laboratory services to attain national, regional, or international accreditation
# Laboratory Human Resources training on pathology, forecasting and optimization
# Curriculum development and training on equipment maintenance
# Collaboration with the African Centre for Integrated Laboratory Training (ACILT) and the African Society for Laboratory Medicine (ASLM) to strengthen local capacity and promote country ownership and sustainability
# Use of HIV systems to address non-communicable diseases – such as diabetes – and creation of capabilities in health systems to adopt point-of-care technologies
In addition to announcing the new collaboration, BD and PEPFAR also unveiled the results of a third-party assessment of their initial laboratory strengthening collaboration. Aligning with PEPFAR's priority of strengthening health systems, initial collaboration addressed national needs to improve quality and accuracy of laboratory test results to support clinical decision-making for initiation and monitoring patients in Uganda, Ethiopia, Mozambique and South Africa. Working with Ministries of Health, BD collaborated with CDC field staff to develop a sustainable model integrating technology transfer, local workforce and health infrastructure development.
Assessing the performance of this partnership, Cardno, an external auditing company, reported that countries where capacity-building took place have not only improved the quality of services available to local populations, but also have become regional centers of excellence in Africa.
Program outcomes highlighted in Cardno's report for HIV/AIDS and TB patients, nearly 200,000 in Uganda and 250,000 in Ethiopia, who are on treatment and care revealed that this partnership:
* Improved access to specialized testing services for suspect multi-drug resistant drug TB (MDR-TB) especially for patients co-infected with HIV/TB in remote parts of Uganda, leading to the important finding that 14% of Uganda's retreatment TB cases have MDR-TB, a rate much higher than a previously reported 4.4%. Now Uganda is in a better position to adequately estimate its MDR TB burden.
* Built competencies and skills of laboratory workers who are testing for CD4+ specimens, an immunological assessment marker to diagnose and monitor HIV patients, contributing to sustainable quality systems of 88% of CD4 testing laboratories in Uganda.
* Applied Geographical Information System (GIS) to strengthen existing specimen referral and result reporting mechanisms into an integrated national system for all specimens for anti-retroviral treatment (ART) patients. This improved access to advanced and accurate diagnostics for HIV and its opportunistic infections in Ethiopia. GIS data has served as a basis for evidence-based health programming for HIV and has applicability for detection of other high burden diseases such as malaria and measles. In Ethiopia, policymakers and key leadership are making informed revision of policy and budget allocations.
As noted by Cardno's evaluation, PEPFAR and BD's specimen referral and result reporting model has the potential to be replicated in other resource-limited countries to meet national needs for strengthening laboratory systems.
For more information visit www.PEPFAR.gov