Google, Yahoo! 'Personal Trainers' Strengthen Digital Delts, Partner with S&S Communications Group Teams in Tech Circuit Training
NEW YORK, N.Y. — Brand teams at a leading New York healthcare communications group are taking their digital skills to the next level at a day-long Tech Fit fair on Tuesday, February 12, 2008, at Saatchi & Saatchi Healthcare Communications Group (SSHCG) headquarters in lower Manhattan.
According to Sam Welch, SSHCG president, "Tech Fit isn't the usual show and tell one-off. It is the latest innovation in SSHCG's ongoing program of digital training, which has been a strong focus for the group for several years. This new kind of circuit training, part of our mission to inspire healthier living, will be a great workout with a serious purpose – cutting-edge results for our clients. Tech Fit is that rare instance of all gain, no pain."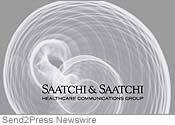 Staffers from all SSHCG agencies will partner with a highly sophisticated group of personal tech trainers from Google and Yahoo! to learn the newest ways to incorporate digital technology into client marketing. After the day's interactive circuit training ends, brand teams are charged with developing plans for enhancing strategic client programs with the latest new media tools.
Stations along the training circuit feature such digital and healthcare luminaries as Sermo, Revolution Health, iMed, Ugen Media, Vibrant Media, MedTrackAlert, Pulse Media, About.com, Moey, Pointroll, Pulse Media, Tobii and Toonboom. SSHCG brand teams will gain hands-on experience with the latest new media options as they traverse the circuit.
"The goal of Tech Fit is to keep improving our digital skills and ensure that employees share in that knowledge," said Welch, "This fits with SSHCG's holistic approach to marketing, integrating new and traditional channels to keep giving clients the best options." Tech Fit involves all SSHCG agencies, including Saatchi & Saatchi Healthcare Innovations, Saatchi & Saatchi Healthcare Advertising and Saatchi & Saatchi Consumer Health+Wellness.
About Saatchi & Saatchi Healthcare Communications Group
Saatchi & Saatchi Healthcare Communications Group (SSHCG), a member of Publicis Healthcare Communications Group, consists of three distinct agencies providing integrated and holistic marketing solutions to its clients: Saatchi & Saatchi Consumer Health+Wellness, dedicated to motivating healthy consumer behavior; Saatchi & Saatchi Healthcare Innovations, providing innovative solutions in the challenging healthcare environment; and Saatchi & Saatchi Healthcare Advertising, keeping clients out in front of the healthcare industry. All three agencies strive to be strategic brand stewards for their clients, applying best-in-class planning, creative and account service across all marketing disciplines including advertising, promotion, digital, CRM and professional marketing. All the teams attack marketing in the same manner: insights come first to drive solid strategy followed by executional excellence. Web site: www.saatchihealthcare.com .
About Publicis Healthcare Communications Group
Publicis Healthcare Communications Group (PHCG), a member of Publicis Groupe SA, is one of the largest healthcare communications groups in the world with over 2,700 employees located in 10 countries. Worldwide healthcare services include advertising, medical education, sales and marketing, and medical and scientific affairs. PHCG offers its clients a strategic partnership, a strong focus on ensuring value for their marketing spend, and exceptional performance on their assignments. Web site: www.publicishealthcare.com .
About Publicis Groupe
Publicis Groupe (Euronext Paris: FR0000130577) is the world's fourth largest communications group. In addition, it is ranked as the world's second largest media counsel and buying group, and is a global leader in digital and healthcare communications. With activities spanning 104 countries on five continents, the Groupe employs approximately 44,000 professionals.
The Groupe offers local and international clients a complete range of communication services, from advertising, through three autonomous global advertising networks, Leo Burnett, Publicis, Saatchi & Saatchi and two multi-hub networks, Fallon and 49%-owned Bartle Bogle Hegarty; to media consultancy and buying, through two worldwide networks, Starcom MediaVest Group and ZenithOptimedia; interactive and digital marketing led by Digitas; Specialized Agencies and Marketing Services (SAMS) offering healthcare communications, corporate and financial communications, public relations, CRM and direct marketing, event communications, sports marketing and multicultural communications. Web site: www.publicisgroupe.com .
All trademarks acknowledged.
[tags]Saatchi & Saatchi Healthcare Communications Group, holistic marketing solutions, Publicis Groupe, Tech Fit fair[/tags]