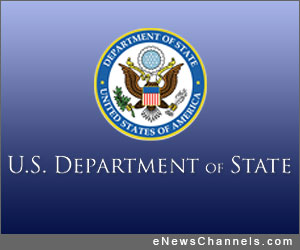 WASHINGTON, D.C. /eNewsChannels/ — The U.S. Department of State will host Tech@State: Moneyball Diplomacy on June 7, 2013. The conference will explore how use of the latest technologies to conduct rigorous economic analyses can produce new insights, improved forecasting, and reliable predictions that can enhance diplomacy and development.
The conference will be held at George Washington University's Jack Morton Auditorium (Media and Public Affairs Building) at 805 21st Street NW, Washington, DC from 8:45 a.m. to 5:00 p.m. Kenneth Cukier, Data Editor of The Economist and author of Big Data: A Revolution That Will Transform How We Live, Work, and Think, will deliver the morning keynote address.
Career Ambassadors Alan Larson and Marc Grossman will join Cukier in a discussion of Moneyball Diplomacy. The morning session will include a panel of economists who will examine the impact of geo-economic issues on foreign policy and conclude with a series of five-minute Ignite sessions. Nassim Nicholas Taleb, author of The Black Swan, will deliver the afternoon keynote address, followed by breakout panel discussions on prediction markets, behavioral economics, and predictive data analysis. A speech by William Hall III, author of Changing the Game: How to Profit From Your Passion for Sports, will close the conference.
Participants and conference leaders include representatives from the U.S. Government, international organizations, non-profit organizations, and academic institutions. A conference event schedule and speaker biographies can be found at http://tech.state.gov/profiles/blogs/tech-state-moneyball-diplomacy-agenda. Registration is free, open to the general public, and can be found at http://moneyball-diplomacy.eventbrite.com/#. The event will be streamed live online at http://www.livestream.com/techstate. Participants can also follow the conference live on Twitter via #TechAtState and through @eDipAtState, @StateDept, and @TechAtState.