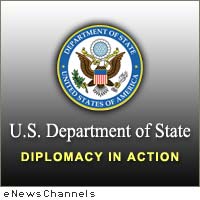 WASHINGTON, D.C. /eNewsChannels/ — Assistant Secretary of State for African Affairs Johnnie Carson will lead an Energy Trade Mission to Mozambique, Tanzania, Kenya, Nigeria, and Ghana February 6-17, 2012. The delegation of U.S. government and private-sector executives will meet host country senior government officials to discuss challenges for U.S. private-sector investment in energy infrastructure projects.
Delegates from the American business community will represent firms in a position to advance large-scale, on-grid generation and fuel supply projects. Discussions are to include specific constraints to attract private-sector investment in the power generation and fuel supply sectors.
The mission will underscore economic development as a path towards sustained prosperity and peace and highlight the U.S. initiatives in the region, such as the Partnership for Growth Initiative and the Millennium Challenge Corporation programs. Additionally, the mission provides an opportunity for U.S. power developers and fuel suppliers to promote new energy infrastructure projects. The U.S. government is committed to assist and facilitate trade and investment through its existing programs and advocacy both in the United States and through its embassies abroad.
Learn more about the activities of the Bureau of African Affairs at the Department of State at: http://www.state.gov/p/af/index.htm .