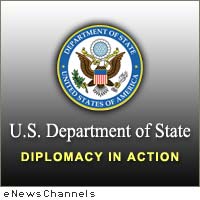 WASHINGTON, D.C. /eNewsChannels/ — The U.S. Department of State's Bureau of Educational and Cultural Affairs announced today the second international sports exchange with the Democratic Republic of the Congo that includes 20 boys and girls basketball players and coaches. From January 9 through January 20, 2012, the Congolese delegation will engage with Washington, D.C. area high school and university teams; participate in a clinic by the National Basketball Association (NBA) at the Verizon Center as well as teambuilding and leadership exercises.
Sports diplomacy builds on Secretary of State Hillary Rodham Clinton's vision of "smart power." "Smart power" embraces the use of a full range of diplomatic tools, including sports, to bring people together to foster greater understanding.
This Sports Visitors program follows the July 2007 trip of the NBA's Juwan Howard and the Women's National Basketball Association's (WNBA) Nikki McCray to Kinshasa as Sports Envoys, where they were joined by NBA Legend Dikembe Mutombo.
The Bureau of Educational and Cultural Affairs leads the U.S. Department of State's sports diplomacy efforts. Through its SportsUnited office, athletes and coaches from a variety of sports conduct clinics, visit schools, and engage with youth overseas in a dialogue on the importance of an education, positive health practices, and respect for diversity.
Since 2003, SportsUnited has brought almost 900 athletes from 58 countries to the U.S. to participate in Sport Visitor programs; and sent over 200 U.S. athletes to more than 50 countries to participate in Sport Envoy programs since 2005.