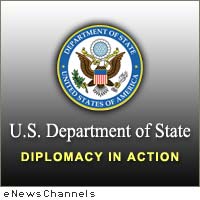 WASHINGTON, D.C. /eNewsChannels/ — The U.S. Department of State's Bureau of Educational and Cultural Affairs announces TechWomen 2012 – an international exchange that uses technology as a means to empower women and girls in the Middle East and North Africa. TechWomen will bring 42 women working in the technology sector from Algeria, Egypt, Jordan, Lebanon, Morocco, the Palestinian Territories, Tunisia and Yemen to the United States for a five-week mentoring program with their American counterparts.
Later this year, U.S. mentors will travel to the Middle East and North Africa to conduct workshops for women in the technology sector and young girls who have expressed an interest in pursuing a tech-based career. The initiative will launch this Wednesday, September 5 in San Francisco, CA.
Representatives from thirty technology companies in Silicon Valley and the Greater San Francisco Bay Area are serving as professional mentors. They include: Adobe Systems Inc., Citrix Systems Inc., CSR Inc., Ericsson, Facebook, Flipboard, Flurry Inc., Google Inc., GREE International Inc., Huawei Technologies, Internet Systems Consortium, Juniper Networks, Lawrence Berkeley National Laboratory, LinkedIn, Microsoft Corporation, NetApp, Oracle Corporation, Pacific Gas & Electric, Palo Alto Research Center, Recology, Salesforce.com, Stubhub, SugarSync, Sungevity, Symantec Corporation, Synopsys Inc., Trilliant, Twitter Inc., Walmart Global eCommerce, and Xerox Corporation.
Launched by Secretary of State Hillary Rodham Clinton in 2011, TechWomen builds on her vision of "smart power" embracing the full range of diplomatic tools, in this case technology, to bring people together for greater understanding and to empower women and girls worldwide.
During the 2011 inaugural program, more than 20 leading U.S. companies participated in this public-private partnership by hosting TechWomen from the Middle East and North Arica. For more information, go to www.techwomen.org.