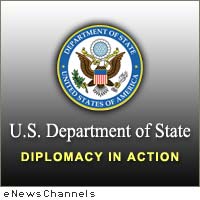 WASHINGTON, D.C. /eNewsChannels/ — The U.S. Department of State's Bureau of Educational and Cultural Affairs (ECA) is pleased to announce the 2012 Alumni Engagement Innovation Fund (AEIF), which aims to harness the leadership capacity of exchange program alumni worldwide. There are currently more than one million alumni of United States government-funded exchange programs. This competition gives these alumni the opportunity to form partnerships with each other and U.S. missions abroad to spur innovative ideas and projects that address global issues on a local, national, regional, and international level.
AEIF offers $1 million to help teams of alumni tackle some of the world's most pressing issues. Administered by the State Department's Office of Alumni Affairs, AEIF awards up to $25,000 to winning teams of alumni to fund projects tackling issues from human rights to women's entrepreneurship to interfaith understanding.
AEIF awards are highly competitive. During the 2011 competition, more than 700 project proposals were received and 38 winning alumni teams were selected. Winning groups, including a Vietnamese group that is training the next generation of Vietnamese journalists and a Rwandan group that is conducting launching youth human rights clubs, are already accomplishing great things.
ECA's Office of Alumni Affairs will conduct the competition on the State Alumni website at https://alumni.state.gov. Alumni are invited to submit proposals between February 27, 2012 and March 30, 2012, at https://alumni.state.gov/aeif. The Office of Alumni Affairs will announce AEIF award winners in mid-May 2012. Visit https://alumni.state.gov/aeif to learn more about the submission process.
The Bureau of Educational and Cultural Affairs' mission is to increase mutual understanding between the people of the United States and the people of other countries by means of educational and cultural exchange.