WASHINGTON, D.C. /eNewsChannels/ — The U.S. Department of State selected Consolata Ndayishimye, an alumna of the Bureau of Educational and Cultural Affairs' (ECA) International Visitor Leadership Program (IVLP), as State Alumni Member of the Month. Mrs. Ndayishimye's 2006 participation in IVLP on the topic of women and entrepreneurship inspired her to seek the presidency of the Federal Chamber of Commerce and Industry of Burundi. Today, she promotes women's entrepreneurship for the entire region, through her 2011 selection as president of the East Africa Business Council.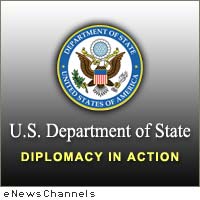 Mrs. Ndayishimye is a dynamic and energetic promoter of women's entrepreneurship. In March 2007, she organized trips for Burundian business women to travel to Rwanda in search of projects and to learn best practices. As a result, she organized three regional workshops allowing 150 Burundian and 20 Rwandan women to share business experiences. Subsequently, six projects were launched in the two countries including a microfinance group, the enhancement of a local restaurant and the Agaseke Project, which provides opportunities for women from the underprivileged Batwa ethnic group to produce and sell handicrafts in support of their own sustainable employment.
Mrs. Ndayishimye is also instrumental in working with Burundi's exchange alumni community. At the recent launch of the reconstituted Burundi Alumni Association, she encouraged fellow alumni to join the global alumni network and combine their talents and dreams to make Burundi a better place.
The IVLP alumna shares her business expertise and contacts with Burundian alumni. She facilitates connections between local journalists and bankers and alumni representatives from neighboring countries. Furthermore, she participates in embassy-sponsored events such as a recent economic roundtable with the Assistant U.S. Trade Representative for Africa and other members of the Burundian business community.
Throughout January, her leadership and dedication to African women's entrepreneurship will be recognized on the State Alumni website (alumni.state.gov), ECA's official website for the more than one million Department-sponsored exchange alumni worldwide. Each month, the Bureau's Office of Alumni Affairs, which supports alumni as they build on their exchange experiences, confers the award on an outstanding alumnus or alumna.
For more information, visit the U.S. Department of State's Bureau of Educational and Cultural Affairs' website at exchanges.state.gov/alumni/alumnus.html.