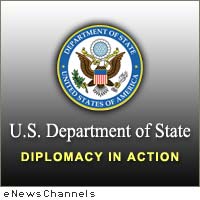 WASHINGTON, D.C. /eNewsChannels/ — The U.S. Department of State, in conjunction with Wikimania 2012, will host a conference focusing on collaborative knowledge and the use of wikis in the public sector at Tech@State: Wiki.Gov on July 12-13, 2012. The event is open to the public and scheduled for Thursday, July 12 from 11:30 a.m. – 5:00 p.m. and Friday, July 13 from 8:30 a.m. – 12:00 p.m.
It will be held in the Betts Auditorium, located in the Marvin Center at George Washington University, 800 21st Street, NW, Washington, DC 20003. The Tech@State keynote by Beth Simone Noveck, former deputy Chief Technology Officer at the White House, will start at 11:30 a.m. in the Marvin Center, followed by quick "Ignite" presentations on new ideas for wikis. Subsequent sessions will explore the potential for wikis to increase collaboration among institutions, enhance the flow of information in local communities, foster internal collaboration and increase inter-agency cooperation. A conference event schedule and speaker biographies can be found at http://tech.state.gov.
Everyone attending Tech@State:Wiki.Gov is also invited to Wikimania's opening ceremony on July 12 at 9:00 a.m. in the George Washington University's Lisner Auditorium, 730 21st Street NW, featuring Mary Gardiner, co-founder of the Ada Initiative, and Jimmy Wales, founder of Wikipedia.
Participants and conference leaders include representatives from the governments of the United States, the United Kingdom, Canada, as well as local governments, non-profits, and academic institutions. Registration is free, open to the general public, and can be accessed through http://wiki-gov.eventbrite.com/. The event will be streamed live online at http://www.livestream.com/techstate.