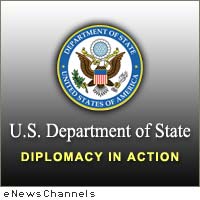 WASHINGTON, D.C. /eNewsChannels/ — The Department of State released its Fiscal Year (FY) 2010 scorecard on sustainability and energy performance in accordance with Executive Order 13514, which directs Federal agencies to meet a range of energy, water, pollution, and waste reduction targets.
The scorecard, issued by the Office of Management and Budget, indicates the Department is meeting most of its environmental requirements. The Department met or exceeded its goals in six areas: renewable energy, potable water, vehicle petroleum use, green buildings, and two categories of greenhouse gas reduction. The Department made progress, but did not meet the FY2010 target, for one category: "energy intensity," or the rate at which the Department consumes energy within its buildings, on a per-square foot basis.
The Department's headquarters, the Harry S Truman Building, has been under renovation for several years, and we are making many improvements, including installing energy-efficient lights and implementing energy savings performance contracts, to further reduce our energy consumption and therefore our energy intensity. The Department has comprehensive plans in place to meet its 30 percent reduction in energy intensity by FY2015.
Overall, the Department continues to identify and track the best opportunities to reduce pollution, improve efficiency, and cut costs, including our recently announced agreement to obtain new renewable energy for our domestic facilities, which is projected to reduce our carbon emissions by 35 percent. An updated Agency Sustainability Plan will be submitted to the White House in June.
To view the Department's OMB Sustainability/Energy Scorecard: http://www.state.gov/green .