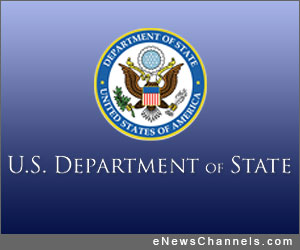 WASHINGTON, D.C. /eNewsChannels/ — The Department of State designated Ahmed Abdullah Saleh al-Khazmari al-Zahrani (better known as Abu Maryam al-Zahrani) as a Specially Designated Global Terrorist under section 1(b) of Executive Order 13224. Abu Maryam al-Zahrani is a senior member of al-Qa'ida, a designated Foreign Terrorist Organization (FTO).
Abu Maryam al-Zahrani is a Saudi citizen currently wanted for extradition by the Kingdom of Saudi Arabia for participating in terrorist activities and for his ties to al-Qa'ida, and is on the Kingdom's most wanted terrorist list. Abu Maryam al-Zahrani is the subject of Interpol Red and Orange Notices because of his membership in al-Qa'ida and his involvement in terrorism.
In 2009, a Saudi newspaper characterized al-Zahrani as "part of al-Qa'ida's new generation" of terrorists. Abu Maryam al-Zahrani travelled to Afghanistan and Pakistan from Saudi Arabia to join al-Qa'ida prior to 2007 and is closely connected to many senior al-Qa'ida leaders. According to open sources, al-Zahrani has been in Pakistan since at least 2009.
The designation under E.O. 13224 blocks all of Abu Maryam al-Zahrani's property interests subject to U.S. jurisdiction and prohibits U.S. persons from engaging in transactions with or for the benefit of al-Zahrani. The action taken against this individual demonstrates the United States' resolve in eliminating al-Qa'ida's ability to execute violent attacks. The Department of State took this action in consultation with the Departments of Justice and Treasury.