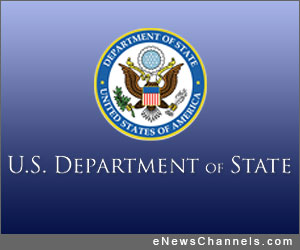 WASHINGTON, D.C. /eNewsChannels/ — The Department of State designated the Abdallah Azzam Brigades (AAB) as a Foreign Terrorist Organization (FTO) under Section 219 of the Immigration and Nationality Act and as a Specially Designated Global Terrorist under section 1(b) of Executive Order 13224. The Abdallah Azzam Brigades (AAB), a militant organization based in both Lebanon and the Arabian Peninsula, was formed in 2009. AAB is led by Saleh al-Qar'awi, who was designated by the Department of State under E.O. 13224. The Department of State also designated AAB's bomb maker, Abu Jabal, under E.O. 13224 on November 22, 2011.
AAB carried out a July 2010 attack on the Japanese-owned oil tanker M/V M.Star in the Strait of Hormuz. According to a statement released online, AAB claimed that the attack was carried out by its Arabian Peninsula Branch, which calls itself the Yusuf al-'Uyayri Battalions of the Abdullah Azzam Brigades. AAB has repeatedly articulated its intent to carry out attacks against Western interests in the Middle East. In 2010, for instance, the group expressed an interest in kidnapping U.S. and British tourists in the Arabian Peninsula.
In addition, AAB is responsible for numerous indiscriminate rocket attacks on Israeli civilians. These attacks, which have been launched from within Lebanon by the Ziyad al-Jarrah Battalions of the Abdallah Azzam Brigades, have targeted population centers in northern Israel.
The consequences of these designations include a prohibition against knowingly providing material support or resources to, or engaging in transactions with, the Abdallah Azzam Brigades, and the freezing of all property and interest in property of the organization that are in the United States, or come within the United States, or the control of U.S. persons. The Department of State took these actions in consultation with the Departments of Justice and Treasury.