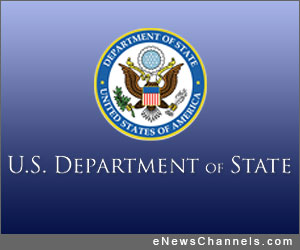 WASHINGTON, D.C. /eNewsChannels/ — Assistant Secretary of State for Oceans and International Environmental and Scientific Affairs Dr. Kerri-Ann Jones and Deputy Assistant Secretary of State for African Affairs Cynthia Akuetteh today announced the appointment of the next facilitator of the Congo Basin Forest Partnership (CBFP). Matthew Cassetta, currently the cultural affairs officer at the U.S. Mission to the European Union, will assume the role of facilitator beginning in May, 2013.
The Congo Basin Forest Partnership (CBFP) was launched in 2002 at the World Summit on Sustainable Development by then-Secretary of State Colin Powell and Central African government leaders. It is an informal association of more than 60 government, research, private sector, and NGO partners, with the shared goal of promoting the conservation and sustainable management of the Congo Basin forest ecosystems.
The Partnership aims to streamline and strengthen partners' programs and initiatives through communication and collaboration, in line with the Paris Declaration on Aid Effectiveness. CBFP members work to protect the region's biodiversity, promote effective forest governance, and improve living standards in the region, all of which support the regional Central African Forests Commission (COMIFAC) strategic plan, the "Plan de Convergence."
By design, the CBFP does not have a secretariat or permanent staff and does not play a direct part in program implementation or financing. Instead, the CBFP provides a unique and flexible platform for political discussions and problem solving. Partner governments voluntarily lead the effort on a two-year rotating basis by providing a "facilitator."
The facilitator convenes events; sustains dialogues and promotes cooperation among the partners; identifies priorities; and represents the partnership in relevant meetings in the region and internationally. The United States will assume the facilitator's role for the second time next May, following Canada (2010-2012), Germany (2008-2009), France (2005-2007), and at its inception, the United States (2003-2004).
For further information, please see www.pfbc-cbfp.org,