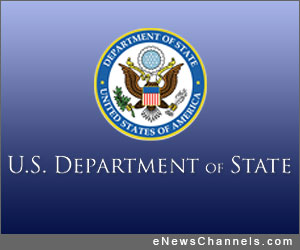 WASHINGTON, D.C. /eNewsChannels/ — From January 15 to January 17, the United States will host the Group of Eight Roma-Lyon Group meeting in Washington. These important meetings aim to better align G8 counterterrorism and anti-crime policies. Principal Deputy Assistant Secretary for the Bureau of International Narcotics and Law Enforcement Affairs (INL) Brian Nichols and the Acting Principal Deputy Coordinator for the Bureau of Counterterrorism (CT) Anne Witkowsky will co-chair the G8 Roma-Lyon Group on Counterterrorism and Counter-crime Group in Washington, DC. These meetings were rescheduled from October 2012, due to Hurricane Sandy.
The G8 Roma-Lyon Group, which is comprised of G8 partners (Canada, France, Germany, Italy, Japan, Russia, United Kingdom, the United States, and the European Union), pursues practical projects in counterterrorism, transportation security, high-tech crime, criminal legal affairs, law enforcement, and migration. This meeting will include ad hoc expert discussions on countering chemical precursors used to produce improvised explosive devices (IEDs), coordination on technical assistance activities to combat drug trafficking and transnational organized crime in West Africa, and dialogue with private sector representatives on ways to combat cybercrime.
As part of these meetings, on January 15, INL Assistant Secretary William R. Brownfield will lead an expert meeting of G8 states and other key partners from the Western Hemisphere, Europe, and international organizations to advance counternarcotics and anti-crime assistance coordination in support of the West Africa Cooperative Security Initiative.
G8 leaders welcomed the Roma-Lyon Group's efforts to develop law enforcement and counterterrorism standards and best practices in their May 2012 G8 Summit Declaration at Camp David. For the May 2012 G8 Camp David Declaration, and other G8 items this year, please visit http://www.state.gov/e/eb/ecosum/2012g8/index.htm.
To receive updates on this meeting, follow the Bureau for International Narcotics and Law Enforcement Affairs on Twitter @INLbureau and Facebook at facebook.com/StateINL.