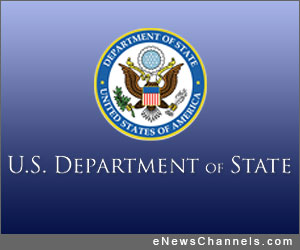 WASHINGTON, D.C. /eNewsChannels/ — Today, the United States imposed sanctions on Greek national Dr. Dimitris Cambis and Impire Shipping for disguising the Iranian origin of crude oil by concealing the control of a vessel by the National Iranian Tanker Company (NITC). The United States also imposed sanctions on Kish Protection and Indemnity Club (Kish P&I), and Bimeh Markazi-Central Insurance of Iran (CII) for providing insurance or reinsurance to NITC.
The Department of State is acting under the Iran Sanctions Act, as amended by the Iran Threat Reduction and Syria Human Rights Act of 2012 (TRA), and the TRA. The United States imposed a visa ban on the corporate officers of Impire Shipping, Kish P&I, and CII identified as:
Impire Shipping:
Dimitris Cambis -President
Kish P & I:
Mohammad Reza Mohammadi Banaei – Managing Director
CII:
Seyed Mohammad Karimi – President
Rahim Mosaddegh – Vice President
Mina Sadigh Noohi – Vice President
Esmaeil Mahdavi Nia – Vice President
Seyed Morteza Hasani Aghda – Superintendent
The Department of the Treasury has also imposed sanctions against Cambis and entities under his control pursuant to its own separate authorities.
According to information available to the U.S. government, Dr. Cambis, president of Impire Shipping, helped the National Iranian Tanker Company (NITC) obtain eight tankers in late 2012. While these vessels were purchased and are controlled by Dr. Cambis and Impire Shipping, they are operated on behalf of NITC. U.S. law prohibits knowingly owning or controlling a vessel that operates in a manner that conceals the Iranian origin of crude oil by obscuring or concealing the ownership, operation, or control of the vessel by NITC.
Kish P&I provides insurance for NITC, the main carrier of Iranian petroleum. Kish P&I is reinsured by CII, thus CII is providing reinsurance services for NITC. U.S. law provides for sanctions on persons knowingly providing insurance or reinsurance for NITC.
These sanctions make clear the risks involved in working on behalf of certain Iranian entities, and will further hamper Iran's ability to circumvent sanctions. Iran is failing to meet its international nuclear obligations, and as a result there has been an unprecedented international sanctions effort aimed at convincing Iran to change its behavior. The sanctions announced today represent an important step toward that goal.
Today's sanctions action sends a clear message: the United States will act resolutely against attempts to circumvent U.S. sanctions. Moreover, any business that continues to support Iran's energy sector, enable the movement of its oil tankers or facilitate Iran's efforts to evade U.S. sanctions could face serious consequences.