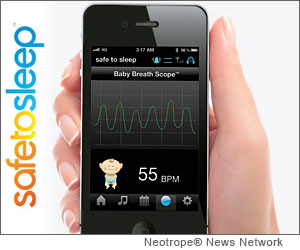 DETROIT, Mich. /eNewsChannels/ — SafeToSleep(TM) announces the launch of its innovative new baby product, the Sleep and Breathing Monitor, a breakthrough in infant sleep safety that monitors each breath of a sleeping baby with hospital accuracy and streams the breath wave to a smartphone as it occurs. The Sleep and Breathing Monitor will alarm upon detection of slow, fast, and no breath events. The system tracks sleep time, generates sleep quality reports, and is wireless and portable. SafeToSleep(TM) will debut the Sleep and Breathing Monitor at the 2012 ABC Kids Expo, Booth 1233.
Unlike current baby monitors that use audio, video, or movement to monitor a sleeping baby, the SafeToSleep system uses advanced fiber optic technology to detect the baby's actual breath rate and breath wave. The breathing information is streamed to a smartphone (or included Parent Unit) as it occurs to alert parents of irregular breathing events. The system generates sleep time and sleep quality reports to help parents identify issues such as sickness or pain at the earliest possible stage.
"For the first time, parents can monitor the breathing of their sleeping baby, with clinical accuracy, every single time they put their baby to sleep," said SafeToSleep co-founder, Dr. Ryan Santangelo. "This technology turns what has traditionally been a low-function gadget – the baby monitor – into a tool that will play a central role in infant care and sleep safety for generations to come. It is an evolution of the baby monitor to the greatest degree."
The Sleep and Breathing Monitor has been hospital tested and clinically validated for accuracy. The hospital testing has shown the monitor to be as accurate as the breathing monitors used in hospital pediatric units around the world.
The Sleep and Breathing Monitor will be available online at www.SafeToSleep.com in December 2012 and at select retailers beginning January 2013. The product will retail for USD $329.
About SafeToSleep:
The purpose of SafeToSleep(TM) is to improve infant care through the invention, improvement and application of user-friendly and intuitive technologies. The company was co-founded by brothers, parents, and technologists Ryan Santangelo, PhD and Pete Santangelo. Find out more at http://www.SafeToSleep.com/ .


Copyright © 2012 Neotrope® News Network – all rights reserved.