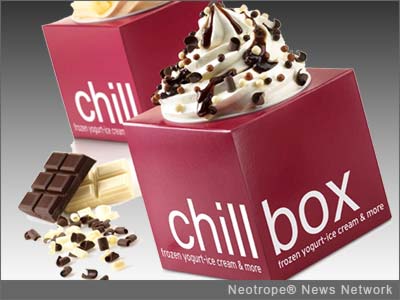 PALISADES PARK, N.J. /eNewsChannels/ — NEWS: As fascination with Greek yogurt continues to sweep across America, Chillbox SA has recently announced it has earned exclusive franchising rights to open and operate Greek yogurt stores nationwide. With nearly 100 locations in 25 countries throughout Europe, and more than 200 stores currently in development, Chillbox is ready to bring its savory creations to the United States and expand its presence in the rapidly-growing market.
"As Americans are becoming increasingly health-conscious, the original Greek yogurt is expected to hold enormous appeal to a lot of people," says Ben Cerrone, National Sales Manager of Chillbox in the U.S.
He added, "There is nothing more satisfying than a delicious treat with the finest ingredients, allowing people to enjoy themselves while keeping healthy. Chillbox will continue building on the strong reputation they have already established in Europe and bring their successful business model to U.S. shores."
The company is set to unveil their first full-service Greek yogurt store in the summer of 2014.
Greek yogurt aficionados of all ages will be exposed to a wide variety of delicious flavors topped with fresh fruits, nuts, sweets and even hot sauces. Filled with nutritious yet healthy ingredients, Chillbox yogurt is designed to satisfy every palate and deliver the ultimate experience to each customer. This authentic, non-fat and sugar-free product is void of any artificial preservatives and contains high amounts of probiotics and fiber.
Made from Greek strained yogurt and fresh milk, Chillbox frozen delights, oftentimes referred to as "pleasure in a box," have shown to dramatically enhance the immune system and improve metabolism.
Chillbox SA executives have recently initiated collaboration with a Greek yogurt manufacturing facility in New York to produce the original Greek yogurt of the highest quality. As the company is preparing to open its first store in the New York Metropolitan area, the team of savvy entrepreneurs is actively searching for franchisees, area developers, and multi-unit operators who would be interested in participating in the ambitious journey ahead.
As the Greek Yogurt revolution rages on, ChillboxUSA is ready to fulfill the ever increasing demand for a fresh, healthy and world-class product, making life a little sweeter for each customer entering the store.
About Chillbox:
Formed in 2011 in Greece, Chillbox SA is a rapidly-growing foodservice chain offering frozen yogurt as its main product, as well as ice cream, smoothies, coffee, freshly-made juices, and other beverages. Since its inception a few years ago, the company has been rapidly expanding throughout Europe. Currently, Chillbox SA owns and operates stores in England, Sweden, Bulgaria, Germany, Netherlands, Belgium, Russia, Austria and other countries. As their unique concept continues to gain momentum across Europe, they are ready to introduce their successful business model to the American public. Learn more at: http://www.chillboxusa.com/ .
Lymel Holdings LLC, the New Jersey-based company, is an exclusive licensee of Chillbox.
This version of news story is Copr. © 2014 eNewsChannels™ (www.enewschannels.com) and the Neotrope® News Network – all commercial and reprint rights reserved. Unauthorized reproduction in whole or in part without express permission is prohibited.