LOS ANGELES, Calif. — Eye Scream Films today announced the premiere of their new on-line comedy series, "Poor Paul," starring Kevin G. Schmidt (Cheaper By The Dozen 1 and 2, Butterfly Effect, Young and The Restless), Zack Bennett (Down the PCH), Nicholas Braun (Sky High, Minutemen), Samantha Droke (Suite Life of Zack and Cody), Floriana Lima (How I Met Your Mother), Palmer Scott (Nip/Tuck) and co-produced by Kevin Schlanser (lonelygirl15). It will "air" on YouTube, MySpace and exclusively in HD on KoldCastTV starting September 16th, 2008. New webisodes will be available every Tuesday at 1:00 p.m. EDT / 10:00 a.m. PDT.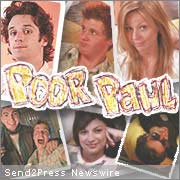 Twenty year old Kevin G. Schmidt has already had a solid career with major roles in films like Cheaper By the Dozen 1 and 2, The Butterfly Effect and the upcoming Disney Channel movie Princess Protection Program, plus numerous TV guest appearances. Zack Bennett, also twenty, was one of the leads in the independent film Down the PCH, as well as The Last Hurrah and stage work. Although neither are yet household names, their newest endeavor is sure to change that. And it's being created specifically for the Internet.
The project is called Poor Paul and is a unique new comedy show. Not quite a sitcom, not quite a video blog, not quite reality or fantasy, it is the brainchild of director/producer Sean Michael Beyer (Resurrection Mary, Down the PCH).
"Because we don't have to answer to studio MBAs," Beyer said, "we can do anything we want. We can bring together cast with various levels of experience and marquee value, along with talented actors who are about to break out. It's an exciting mix. We make our own rules. Then we break them. We're not afraid of being 'playfully' offensive. It must be working, we're already being wooed by several on-line video networks."
Poor Paul follows three college-aged roommates, an "odd trio," navigating life. One, played by the handsomely tall and lanky Nicholas Braun (Sky High, Princess Protection Program), can be found in the living room wearing boxer shorts and a snorkel asking for rabbit meat or duct tape. Another, played by Schmidt, eats dried seaweed because it has the same mineral concentration as human blood. And poor Paul, played by Bennett, slips into outrageous fantasies whenever things around him get too weird.
Beyer describes Poor Paul as an edgy new media comedy that leaps out of the box. The show has three levels of reality that bleed into each other, Paul's video blog, the day-to-day quirky lives of the characters and Paul's outrageous fantasies. In each level Paul has a different persona. Each weekly webisode will be approximately five minutes long and contain no commercial interruptions.
"The show is built for the YouTube/MySpace audience," Bennett said. "It's well done, innovative, and we love what we're doing." Schmidt chimed in with, "The reason so many talented people are willing to work on a ground-breaking show like this is that it allows them the freedom to play many roles they've never played before and to connect and interact directly with their audience."
"It's even quite possible that comments by fans will be incorporated into the plot," Beyer added. "This is the future of entertainment; short, well-produced shows that can be viewed online any time and, with cell phones, anywhere."
[youtube:http://www.youtube.com/watch?v=csZn96Qazro&hl&autoplay=1 400 326]
Poor Paul is an Eye Scream Films production, directed by Sean Michael Beyer and written by Geoff Hoff and Steve Mancini.
It can be found at:
YouTube: www.YouTube.com/PoorPaulPoorPaul
MySpace: www.MySpace.com/PoorPaulPoorPaul
and in HD at KoldCast: www.KoldCast.TV/index.php/show/poor_paul_hd .
[tags]Eye Scream Films production, director Sean Michael Beyer, Geoff Hoff and Steve Mancini, Poor Paul comedy series[/tags]