ROUND ROCK, Texas — On September 30th, InterSkillMedia.Com is launching a new audio book format on the anniversary date of the death of the famous actor, James Dean. Consumers are listening to audio books more than ever. Industry statistics released by The Association of American Publishers (AAP) show that audio books had an increase of 19.8 percent for 2007 to a total of $218 million. The recent sale of Audible.com to Amazon for a reported $300 million is proof of the growing demand for digital content. Recognizing the new digital age and its growth potential, the company is calling the new audio format an Audio Movie Drama and, unlike the typical audio book, is not read by a single narrator but, rather by multiple actors.
The first title in the new format, Curse of The Medallion, involves more than twenty (20) professional actors in a story about the race car owned by the famous actor James Dean, a 1955 Porsche 550 Spyder. According to legend, the car became cursed after the crash that killed the actor.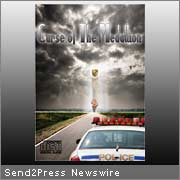 September 30, 1955 had been a beautiful day in California. James Dean had wrapped up shooting the movie Giant and had planned to enter his 1955 Porsche Spyder in an automobile race held at the Salinas, California Airport. Dean originally intended to pull his new silver Porsche Spyder on a trailer behind his station wagon but, at the last minute, decided to drive the sports car to put some pre-race mileage on it.
Most are unaware that following in Dean's station wagon were stunt car driver Bill Hickman and photographer, Sanford Roth. More than fifty years later, controversy still surrounds the automobile. Many believe the race car was cursed as quite a few died who came in contact with the mysterious vehicle after the crash. Numerous websites describe the car's unsuspecting victims.
This is where "Curse of The Medallion," the first title in the new audio format, begins. Bill Hickman and Sanford Roth follow in Dean's station wagon. Stopping for directions, the two meet a young musician named Garrett Arizona. Within minutes, the three come upon the fatal crash site. Bill and Sanford are devastated. Standing nearby, Garrett picks up a shiny metal emblem that will change his life forever. Fifty years later, a series of letters are discovered in an old trunk by his grandson. The letters reveal not only the past but, also his future.
Taking the letters, he embarks on a journey to find the grandfather he has never met. He may not survive it as he knows nothing of the Curse of Medallion!
To promote the new Audio Movie Drama format and its first title, "Curse of The Medallion," for a total of 24 hours starting at 12:01 a.m., September 30th, the company is giving away free digital downloads on its website, www.InterSkillMedia.com.
[tags]Curse of The Medallion, InterSkillMedia, audio movie drama, story of James Dean, Jeff Edwards[/tags]