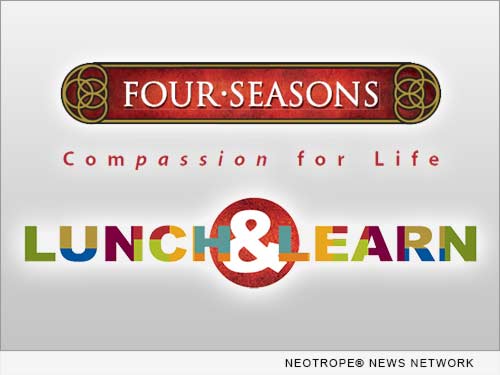 HENDERSONVILLE, N.C. /eNewsChannels/ — NEWS: Western North Carolina residents who wish to learn more about compassionate care during serious illness are invited to attend an event co-hosted by Four Seasons Compassion for Life and Pardee Hospital. The Lunch and Learn, "Introduction to Palliative Care 101," will be noon Tuesday, September 30, 2014, at the Pardee Signature Care Clinic in Blue Ridge Mall.
Those attending will learn how palliative care team members work alongside the individual's physicians to assist in the management of serious, life-limiting illness. The supportive medical specialty focuses on quality of life regardless of prognosis.
On Sept. 1, Four Seasons Compassion for Life was formally awarded more than $9.5 million to implement national health care reform through its innovative community palliative care model from the Center for Medicare and Medicaid Innovation, a program of the federal Department of Health and Human Services.
Lunch and Learn presenters Harvey Nix, a palliative care physician, and Rikki Hooper, a registered nurse certified in palliative care, both with Four Seasons Compassion for Life, and Andrea Little Grey, a registered nurse certified in palliative care with Pardee Hospital, will host the highly accessible presentation and discussion. Boxed lunches are available, with the presentation followed by a question and answer session.
"Quality of life, including reduction of symptoms and pain, can be a reality at any point in a disease process," says Hooper. "Palliative care puts the focus on the individual, not the disease."
Advance planning and communicating wishes to loved ones can ensure the experience we want when the time comes, not the experience we do not want, she says.
"Knowing what is available to you and having the information at hand whether you choose to act on it or not provides a valuable foundation for the time when you are faced with those challenges," she says.
Individuals who attend will acquire the ability to better participate in their health care; develop an appreciation for the ways palliative care positively impacts health care delivery; learn about patient and family satisfaction with care received; and understand what the health care system can provide which is consistent with their goals.
"Palliative care addresses and supports patient and family needs with positive impacts on care goals," says Nix. "Our presentation and discussion will clarify this compassionate form of medicine for those without a medical background."
The western North Carolina branch of Four Seasons Compassion for Life and Pardee Hospital co-host the Lunch and Learn event, "Introduction to Palliative Care 101," noon Tuesday, Sept. 30, at Pardee Signature Health Clinic in the Blue Ridge Mall, 1800 Four Seasons Blvd., Hendersonville.
For more information or to RSVP, contact Callie Walston at (828) 233-0304.
About Four Seasons Compassion for Life:
Four Seasons Compassion for Life is a 501(c)3 non-profit organization with a dedicated team of health care professionals, social workers, spiritual care professionals and volunteers deeply committed to its mission of co-creating the care experience. Nationally known for its leadership in innovative, quality hospice and palliative care services, Four Seasons is a former Circle of Life award recipient from the American Medical Association, and is nationally featured in the 2014 "Moments of Life" campaign of the National Hospice and Palliative Care Organization.
For more information, visit http://www.fourseasonscfl.org/ .
This version of news story is Copr. © 2014 eNewsChannels™ (www.enewschannels.com) and the Neotrope® News Network – all commercial and reprint rights reserved. Unauthorized reproduction in whole or in part without express permission is prohibited.