PHILADELPHIA, Pa. — J.M. Wick and Associates, Inc. (www.jmwick.com) has announced the release of P.I.T.: Personalized Income Tracking, a software program exclusively designed for personal at-home use of tracking tips for employees whose income is gratuity based, in addition to meeting the tip reporting needs of employers in the restaurant and hospitality industries.
The software program is a one-entry system that enables the employee to record their tips in accordance with the Internal Revenue Service's recordkeeping requirements as stated in the IRS Publication 3148, while maintaining organized income data which can assist in making more sound personal financial decisions. For employers who hold an agreement with the IRS, such as the TRAC program, and offer tip reporting education plus provide manual recordkeeping methods, our software can eliminate much of the cost of these recordkeeping tools.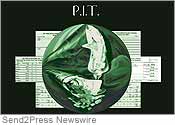 P.I.T. software gives the employee, more efficient method of maintaining records of daily sales, credit card and cash tips and includes various reporting features that enable the user to view reports detailing their daily income on a monthly and annual basis, calculating the percentage of tips to sales. Additional reports and information provided are tip-out reports, prior year comparison reports, income earned per day of the week on a monthly and annual basis, and hourly pay rate averages.
P.I.T. also includes IRS forms 4070a and 4070 for those individuals who are required to submit monthly tip reports to their employers. P.I.T. will allow the user to enter more than one employer and will store and track the income data from all employers, allowing the user to view reports containing income data from a single employer or all employers combined. The program is not a time-sensitive and the employee can begin tracking at any time of the year. And due to its unlimited database, it will store and recall information for several years.
Denise Rushwick, President of J.M. Wick and Associates, Inc. states: "P.I.T.: Personalized Income Tracking is the only software program available that addresses the tip recordkeeping needs of employees in the restaurant industry. When we designed this software program, we have kept in mind that the average age for restaurant employees is between the ages of 18 to 35, they have very busy lifestyles and were raised in the computer era. Our goal is to give them an affordable program they could relate to in terms of recordkeeping and reports designed to help them track their income more closely, and by promoting P.I.T., the employer can offer a more feasible tool to aid their staff with daily personal tip recording. In addition, given the way a server or bartender's income can fluctuate throughout the year, our program can track these changes and help the employee manage their finances more accurately."
She further states: "Employees would relate to using P.I.T. far more than using a manual recordkeeping method. It's a win-win situation for all involved."
P.I.T.: Personalized Income Tracking can be purchased through J.M. Wick and Associates' website and is offered to individuals at prices beginning at $20.95 for a single user license available for download directly from the website. Discounts are offered to companies who want to buy multiple single user license CD's and pass the savings on to their staff.
J.M. Wick and Associates, Inc. is a Levittown based company who offers accounting and start up services to small businesses. To develop P.I.T. Personalized Income Tracking software the president relied on her 32 years of restaurant experience and 23 year accounting background, in addition to research based on the tip reporting requirements of the industry and conducting interviews with servers, bartenders and restaurant managers.
For more information, visit www.jmwick.com .
[tags]JM Wick and Associates, PIT Personalized Income Tracking, tracking tips for employees gratuity based income tracker, Denise Rushwick, gratuity recordkeeping software[/tags]