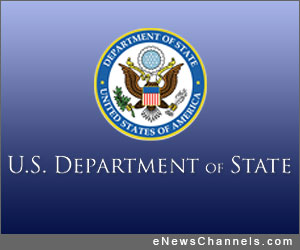 WASHINGTON, D.C. /eNewsChannels/ — The U.S. Department of State's Bureau of Educational and Cultural Affairs welcomes 115 international high school exchange students representing more than 30 countries to Washington, D.C., for a week-long Civic Education Workshop from February 10 – 16. Participants in the Civic Education Workshop were selected from current Kennedy-Lugar Youth Exchange and Study (YES) Program and American Serbia and Montenegro Youth Leadership Exchange (A-SMYLE) students. On February 14, the students will meet with Members of Congress and staff who represent their American host families.
The YES and A-SMYLE programs give students ages 15 to 18 the chance to live with an American host family, attend a U.S. high school for an academic year, develop leadership skills, and engage in community service. The 115 students were chosen from a group of 930 current YES and A-SMYLE participants through an essay competition. Participants in the workshop represent 34 different countries from around the world, and are studying in 33 U.S. states.
Throughout the week, students will take part in seminars on the U.S. system of government and discussions with representatives of civic organizations and the media. Four YES and A-SMYLE alumni who have been exceptionally active alumni since returning to their home countries will serve as mentors, sharing how their exchange experience has influenced their careers and lives today.
For additional details on these programs please visit exchanges.state.gov or visit yesprograms.org, follow us on twitter @yesprogramnews #KLYES and @asmyleSEE, or facebook.