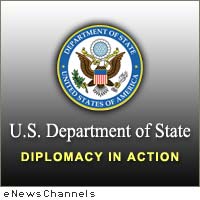 WASHINGTON, D.C. /eNewsChannels/ — In order to advance marine protection and scientific research in one of the last great ocean wilderness areas on the planet, the United States submitted a proposal to the Commission for the Conservation of Antarctic Marine Living Resources (CCAMLR) on September 7 to establish a marine protected area (MPA) in the Ross Sea Region of Antarctica.
The Ross Sea Region encompasses the most productive ecosystems of the Southern Ocean and supports a unique assemblage of species found nowhere else on Earth. It is home to one third of the world's Adélie penguins, one quarter of the world population of Emperor penguins, half of the Southern Pacific population of Weddell seals, and half of the world's Ross Sea killer whales. The Ross Sea Region's unparalleled scientific research possibilities, high biological diversity, and as yet intact ecosystems, make it an area of tremendous conservation and scientific value for current and future generations.
The proposed MPA would encompass roughly 1.8 million square kilometers (700,000 square miles), safeguard habitats that support essential ecosystem processes, and protect areas vital to whales, seals, penguins, commercially valuable and other fish stocks, and the species they feed upon.
The result of extensive consultation with stakeholders and other CCAMLR member countries, the proposed MPA is designed to balance ecosystem protection, scientific research, and commercial fishing interests. The MPA would establish a large area of the Ross Sea as a fully protected no-fishing zone to preserve the ecosystem and serve as a scientific reference area for studying the effects of fishing and climate change. In other areas of the MPA, however, some fishing activities would be allowed, and outside the MPA fishing activities would continue as currently permitted.
CCAMLR will consider the U.S. and other members' proposals at its annual meeting in October in Hobart, Australia.
The text of the MPA proposal is available here (PDF): http://www.state.gov/documents/organization/197887.pdf .