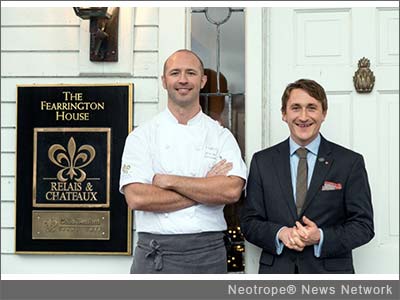 FEARRINGTON VILLAGE, N.C. /eNewsChannels/ — NEWS: Fearrington Village announces that Fearrington House Restaurant Executive Chef Colin Bedford and Wine Director Maximillian Kast will showcase their talent and receive their Rising Stars of the Carolinas awards today, at the StarChefs Rising Stars Gala in Charleston, S.C. StarChefs is an award-winning online magazine for culinary insiders.
Bedford and Kast were selected from more than 100 candidates in the Carolinas based on in-person tastings and interviews. The awards honor up-and-coming chefs and culinary professionals who represent the vanguard of the contemporary American dining scene.
"I'm thrilled that Colin and Max are being recognized for their talents in the region. They've been with us for about seven years and are constantly pushing themselves to enhance the guest dining experience. We also want to congratulate the other Carolinas winners," said Theresa Chiettini, General Manager of The Fearrington House Restaurant.
The dishes that clinched the honor for Chef Colin Bedford:
* Squab with Winblo Peach, Raspberry Vinegar Gel, Sweet Onion, Bacon, Kale, and Mustard.
* Chanterelle Risotto, Carolina Moon Cheese, Foie Gras Snow, Golden Raisins, Zucchini, and Chives.
Wine Director Maximillian Kast offered the following pairings to earn the distinction:
* Chanterelle Risotto, Carolina Moon Cheese Foie Gras Snow, Golden Raisins, Zucchini, and Chives with Bodegas Cesar Florido, Cruz del Mar Oloroso Seco Sherry, Chipiona, Andalucia, Spain NV.
* King Troll Salmon, Cucamelons, Lemon Oil, Pickled Beach Mushrooms, Celery Grass, Cured Roe, Tapioca Cracker, Mexican Mint, and Fennel Frond with Vins d'Alsace, Paul & Philippe Zinck, Grand Cru Riesling, Pfersigberg, France, 2009.
Chef Bedford's cuisine is an interplay of the legendary culinary traditions of the American South, local ingredients, and his own English roots. StarChefs.com describes him as the "heart-and-soul center" of Fearrington Village, an unpretentious chef who "flips back and forth between the traditional and technique driven, the robust and restrained." His food "makes you sit up and pay attention, then collapse back in your seat and savor."
Maximillian Kast is the "foil to Bedford's laid-back charm," according to StarChefs, who calls him Fearrington's "debonair-in-residence." An Advanced Sommelier who is on track for his masters, Kast supervises the beverage program for the four restaurants at Fearrington Village. He also is collaborating on a line of seasonal beer developed with Durham's Fullsteam brewery, using ingredients from Fearrington's gardens.
For more information on the StarChefs.com Rising Stars Gala visit http://www.starchefs.com/cook/events/rising-stars/2013/carolinas .
About Fearrington House:
The Fearrington House is a member of Relais & Chateaux, an association of the finest hotels and restaurants in the world. The 32-room Inn features exquisitely decorated rooms and stunning garden views. The Restaurant, recently named OpenTable Diner's Choice Top 10 Best Restaurants in America for 2013, serves locally sourced European cuisine with a regional influence.
The Fearrington House Restaurant opened in 1980, followed by the Inn in 1987, and most recently, The Spa in 2010. Fearrington House is located eight miles south of Chapel Hill and 20 miles west of the Raleigh/Durham Airport. For more information visit http://www.fearrington.com/ .
This version of news story is Copr. © 2013 eNewsChannels™ (www.enewschannels.com) and the Neotrope® News Network – all commercial and reprint rights reserved. Unauthorized reproduction in whole or in part without express permission is prohibited.