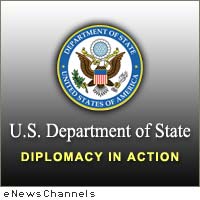 WASHINGTON, D.C. /eNewsChannels/ — As spring break approaches, many students are preparing for a trip abroad. The State Department's website for students traveling overseas provides useful safety and travel information for parents and students alike: studentsabroad.state.gov.
The majority of students will have safe and enjoyable adventures. However, even on the best-planned trips, things can go wrong. Each year more than 2,500 U.S. citizens are arrested abroad, nearly half of them on narcotics charges, including possession of very small amounts of illegal substances. U.S. citizens have been badly injured or killed in accidents, falls, and other mishaps. Many of these incidents have been linked to alcohol and drug use. Other spring break vacationers have been sexually assaulted or robbed because they found themselves in unfamiliar locales, incapable of protecting themselves because of drug or alcohol use, or because they were victims of a "date rape" drug.
The most common cause of death of U.S. citizens overseas, other than natural causes, is by motor vehicle accident. Students traveling abroad should be aware that standards of safety overseas are different from those in the United States.
We urge all U.S. citizens traveling, studying, or residing abroad to sign up online for our Smart Traveler Enrollment Program (STEP). STEP enrollment makes it possible for the State Department to contact the student traveler in the case of a family emergency in the United States or because of a crisis in a foreign country. More information: .
Please see the Department of Homeland Security's web site www.getyouhome.gov for more information on the requirements for a passport, passport card, or other approved document to reenter the United States after travel abroad.