WASHINGTON, D.C. /eNewsChannels/ — According to the U.S. State Dept., childhood is far from carefree for millions of children growing up in conflict. Even a simple game of soccer can mean serious risk when a playing field may contain buried landmines or unexploded munitions. A new initiative by the U.S. Department of State is working to save lives and prevent injuries by using soccer to educate Syrian youth at the Za'atri refugee camp in northern Jordan about these hidden hazards when they will be able to return home.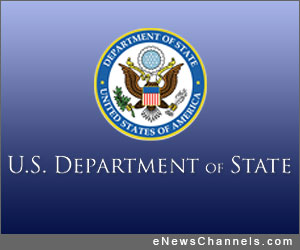 The program, funded through a $50,000 grant managed by the Office of Weapons Removal and Abatement in the Department's Bureau of Political-Military Affairs, is implemented by Spirit of Soccer, one of our public-private partners in humanitarian mine action, and in partnership with the Arab Mine Action Consultancy Company (AMACC). Founded in 1996 by coach Scotty Lee after witnessing first-hand the impact of landmines and unexploded munitions on communities as a volunteer aid worker in the Balkans, Spirit of Soccer has been dedicated to using soccer skills clinics and tournaments to teach Mine and Unexploded Ordnance Risk Education to more than 200,000 children in Bosnia-Herzegovina, Cambodia, Iraq, Kosovo, and elsewhere. Additional support is provided by FIFA, in partnership with the Asian Football Development Project (AFDP), the Jordanian Football Association (JFA) and the Office of the United Nations High Commissioner for Refugees (UNHCR).
Za'atri camp is currently the second largest refugee camp in the world with over 120,000 refugees who were forced to leave their homes in Syria. More than half of camp residents are children below the age of 17 according to UNHCR. To date, more than 8,000 at-risk boys and girls have participated in the program, as well as Jordanian children in neighboring communities hosting Syrian families escaping from the ongoing conflict.
The United States is the world's single largest financial supporter of Conventional Weapons Destruction. Since 1993, the Department of State has partnered with the Department of Defense, USAID's Leahy War Victims Fund, and the Centers for Disease Control and Prevention to promote peace and security by delivering more than $2 billion through more than 60 public-private partners such as Spirit of Soccer in more than 90 countries.
To date, The United States has provided nearly $815 million in humanitarian assistance to help those affected by the conflict.