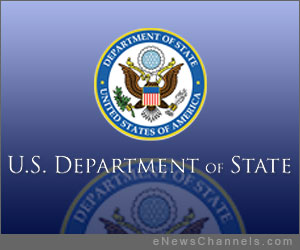 WASHINGTON, D.C. /eNewsChannels/ — Today at the G-8 Foreign Ministers meeting in London, the United States joined G-8 partners in support of the United Kingdom's Preventing Sexual Violence Initiative, and reaffirmed its commitment to work with the international community to strengthen global coordination and individual countries' capacity to prevent sexual violence; promote justice and accountability; and provide care for survivors of such violence.
Together with the G-8, the United States is calling upon the international community to mobilize funding for efforts to prevent and respond to sexual violence and other forms of gender-based violence in conflict situations, including at the first stages of crisis and in the initial response to humanitarian emergencies.
Impunity for sexual violence undermines the resolution of conflict and the building of peaceful societies. To address this issue, the U.S. is committing $10 million to support new and ongoing efforts that align with the Preventing Sexual Violence Initiative. Such efforts include improving access to services for survivors of gender-based violence in places such as South Sudan, Sri Lanka, Afghanistan, and Haiti. This assistance will support survivors' recovery, including by addressing the health impacts of gender-based violence; improve accountability efforts through human rights documentation and transitional justice workshops in Syria, provide technical support and training of police, investigators, and prosecutors in Georgia; and support research to identify effective interventions to influence the social norms that may perpetuate gender-based violence.
Furthermore, since the integration of women's leadership and viewpoints is critical to sustainable democracy and the effectiveness of sexual violence prevention and accountability efforts, the U.S. consistently works to ensure that women leaders around the world play a more active role in transition planning in conflict and crisis affected regions.
Today's pledge is just one portion of the United States' overall commitment to addressing and preventing gender-based violence around the world, which in 2012 totaled more than $100 million. Such commitments are further complemented by the United States' substantial support for women's participation in peace negotiations, conflict prevention, and peacebuilding processes. Both the U.S. National Action Plan on Women, Peace, and Security and the U.S. Strategy to Prevent and Respond to Gender-based Violence Globally bring the whole of the U.S. government together to pursue the goals of gender equality, women's empowerment, accountability for violence against women, and the protection of vulnerable populations in post-conflict regions around the world.