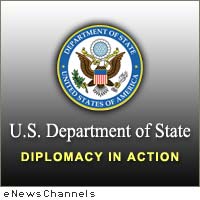 WASHINGTON, D.C. /eNewsChannels/ — The U.S. Department of State's Bureau of Educational and Cultural Affairs announced today that the 2012 TechWomen international exchange participants will take part in an interactive discussion on "Tech for Social Good" hosted by the New America Foundation's Open Technology Institute on Tuesday, October 9 from 3 to 5 p.m. EDT.
The 41 TechWomen and 60 of their professional and cultural mentors will engage representatives from non-profits and multilateral organizations on innovative uses of technology for development. Discussants include:
* Patty Mechael, Executive Director, mHealth Alliance: @PattyMechael
* Alex Counts, President & CEO, Grameen Foundation: @AlexCounts
* Adarsh Desai, Program Manager, Innovation Labs at The World Bank: @adarshdesai
* Jamie Zimmerman, Director, Global Assets Project, Asset Building Program, New America Foundation
The event is closed to the public, however there are multiple ways to join the conversation:
* Join the discussion via Twitter using the hashtag #tw2012
* Tune in for the livestream here.
Launched by Secretary of State Hillary Rodham Clinton in 2011, TechWomen builds on her vision of "smart power" embracing the full range of diplomatic tools, in this case technology, to bring people together for greater understanding and to empower women and girls worldwide. TechWomen fosters and develops the next generation of women leaders in the technology field by providing women and girls with the access and opportunity needed to pursue tech-based careers.
During the 2012 program, 31 leading U.S. companies and organizations participated in this public-private partnership by hosting TechWomen from the Middle East and North Arica. For more information, go to www.techwomen.org.