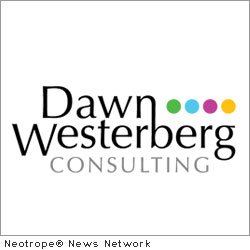 AUSTIN, Texas /eNewsChannels/ — B2B Marketing Strategist and President of Dawn Westerberg Consulting LLC, Dawn Westerberg, has announced that she will be speaking at the Texas Association of Certified Public Accountants (TACPA) Winter Meeting on Friday, February 17, 2012.
In her session "CPAs and Social Media," Westerberg will identify areas where Social Media can benefit small CPA firm, and single person firms in much the same way that networking and word of mouth referrals can benefit professionals. The session will provide advice on how to enhance online presence with clients, prospective clients and professional associates using social media sites such as Google+, LinkedIn, Twitter and Facebook.
"Social Media provides a powerful way for professionals to extend their networks and business development. With a well thought out strategy, CPA firms can enjoy all the benefits of an online presence that serves to grow their book of business and increase client loyalty," said Westerberg.
The Texas Association of Certified Public Accountants (TACPA) is a nonprofit, voluntary, professional organization representing Texas CPAs. The TACPA dedicates itself exclusively to the unique interests of CPAs in public practice, including preserving the integrity and enhancing the value of the CPA certificate within the business and financial communities. The TACPA is committed to helping members meet the challenges and seize the opportunities in public practice.
About Dawn Westerberg Consulting:
Dawn Westerberg invites business owners to "fall in love with your business again" through a sound marketing strategy that drives results and profits. Dawn Westerberg Consulting LLC assists companies in developing marketing plans that take full advantage of online and traditional marketing to create lead demand from ideal prospects. An Authorized Duct Tape Marketing Consultant – http://dawnwesterberg.com/duct-tape-marketing/ – Dawn is a frequent speaker at conferences throughout the country on the topics of marketing, social media, online presence, and blogging. She publishes a blog on B2B Marketing at http://dawnwesterberg.com and is a contributor at BusinessWeek's Business Exchange. With headquarters in Austin, TX, she serves customers in the United States and Canada.
Copyright © 2012 Neotrope® News Network – all rights reserved.