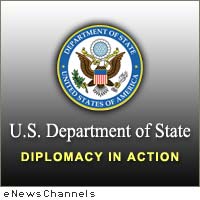 WASHINGTON, D.C. /eNewsChannels/ — The U.S. Department of State's Bureau of Educational and Cultural Affairs launched today the "Empowering Women and Girls through Sports" Photo Contest on its ExchangesConnect online community by calling for participants to submit photos that showcase the world of women and girls' in sports.
Click here for official contest rules and guidelines: http://connect.state.gov/?utm_source=072412&utm_medium=medianote&utm_content=homepage&utm_campaign=photocontest .
From neighborhood street games to professional events, the stories captured in these photographs should celebrate the women and girls in sports. This contest will celebrate the U.S. Department of State's "Empowering Women and Girls Through Sports Initiative," which mobilizes sports diplomacy as a means to empower women and girls and increase the number of girls participating in sports worldwide.
Click here to learn more: http://exchanges.state.gov/womeninsports/index.html
The contest runs until September 4, 2012 and is open to the global public, ages 14 and up.
Two grand prize winners will receive tablet computers as well as global recognition— their work will be featured on ECA's websites and displayed at the Department of State in Washington, D.C. Runners up will receive ExchangesConnect t-shirts and trading cards featuring the top 20 submissions.
ExchangesConnect is a unique online community that hosts people-to-people dialogue among over 38,000 members about U.S. Department of State exchange programs and supports the Department's mission to promote international mutual understanding through a wide range of academic, cultural, professional, and sports exchange programs.