WASHINGTON, D.C. /eNewsChannels/ NEWS: Today, John Kerry, U.S. Secretary of State provided the following statement to the media: Eleven years ago, the United Nations set aside February 6 as the day each year for all of us to reaffirm our commitment to eradicate Female Genital Mutilation/Cutting and stand in solidarity with the women and girls forced to suffer its unspeakable consequences.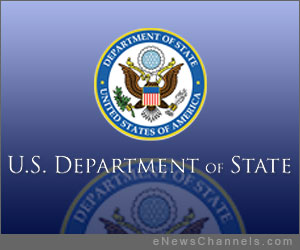 The facts must shock every conscience into action. All told, about 120 to 140 million women in countries around the world have undergone FGM/C and another 3 million girls are at risk each year. Just as gender-based violence knows no boundaries, this tragedy spans the globe, including among many migrant communities in the United States.
These aren't just statistics. They're a challenge to the decency of every single one of us. These are real people – little girls, some younger than 10 years old – daughters, sisters, and wives – subjected to this horrific practice.
The United States is committed to stemming the tide of this gross injustice and to improving healthcare for women and children suffering from the consequences.
Ultimately, real change is driven from within. There have been encouraging signs of progress in several countries, but make no mistake: more must be done.
That's why the United States supports programs that work with local communities to eradicate FGM/C globally. Community-based approaches that marshal the collective action of village leaders, elders, and religious figures have proven to be the most effective response to this sensitive issue.
The United States believes that all people deserve to live in dignity and without fear of gender-based violence. We must have zero tolerance for anything less.
Human rights are universal–not negotiable–and the United States will continue to stand up for the fundamental worth of every human being–this day and every day the world over.