Music Entertainment News, including CDs, Concerts, and Gadget News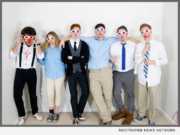 eNewsChannels NEWS: (SARATOGA SPRINGS, N.Y.) -- Combining the musical swagger of The Strokes, the DIY ethic of Black Flag, and the manic hair on fire delivery of Talking Heads, Delphino is a gritty indie rock band that just wants to get out of the basement and into your heart. Keeping the punk spirit in mind, over the past year Delphino has gone from playing in friends' basements and house parties to recording, mixing, and self-distributing their debut album, "Funny Cide," across New York.
eNewsChannels NEWS: (LOS ANGELES, Calif.) -- Uproar Entertainment is proud to announce that "Chillennial" by Feraz Ozel has debuted at #9 on The Billboard Comedy Chart in its first week of release. The Billboard Comedy Chart lists the week's top selling comedy albums ranked by sales data as compiled by Nielsen Music.
eNewsChannels NEWS: (PLANT CITY, Fla.) -- Delivering melodies, harmonies and lyrically driven songs, Ed Verner looks to a music passion with honesty, humility and humor. The end result and goal is neither world domination nor awards, but more so, another ear to listen, another person to download and maybe a few dollars on the side.
eNewsChannels NEWS: (DALLAS, Texas) -- Dallas music artist OG Bobby Billions released on Black Friday what might be one of the greatest debuts from a new talent - and according to him it's only the beginning. On December 9 he will be releasing a more in-depth visual to the already buzzing "Bands" single.
eNewsChannels NEWS: (LAKE WORTH, Fla.) -- The Palm Beach State College Foundation is proud to announce that Armando Christian Perez, professionally known as "Pitbull," will be the keynote speaker for the Foundation's 2017 STEAM (Science, Technology, Engineering, Arts and Math) luncheon presented by Bank of America. The event will take place February 1, 2017 at 11:30 a.m. at the Kravis Center for the Performing Arts' Cohen Pavilion, West Palm Beach.
eNewsChannels NEWS: (LAS VEGAS, Nev.) -- The Second Spirit, an indie rock project, just released its debut EP, "Modern Life," a five-song album, and its first single, "Rescue Car," which personifies the physicality of love through a retro vibe, rock and roll groove and cool, fuzzy guitar leads. "Since it's my first album, I wanted to demonstrate my broad range of influences," Matthew Victory Warren, songwriter, producer and busker says.
eNewsChannels NEWS: (FORT WORTH, Texas) -- In 2016, The Texas State Men's Choir, founded in January of 2015, released its debut record titled "Prayers, Poems & Promises" which reached #39 on iTunes classical charts in April. With the choir's new treble addition and now renamed The Texas State Men & Boys Choir, they teamed up with The Dorothy Shaw Bell Choir to offer a new Christmas album titled "Following The Star; Traditional Carols."
eNewsChannels NEWS: (LAS VEGAS, Nev.) -- The Next Female Superstar Series Corporation (TNFSSC) has green-lit "The Next Female Superstar(R)," an all-female reality singing competition series that focuses on digital artists' audition video uploads and live-streaming auditions which stream from TNFSSC's patent-pending Superstar Kiosks(TM) located in one of their local malls.
eNewsChannels NEWS: (NEW YORK, N.Y.) -- The Pit Stop Players, a celebrated instrumental chamber ensemble composed of veteran Broadway pit musicians, launch their seventh season with a concert of fantasy-themed music at Good Shepherd-Faith Presbyterian Church, 152 West 66th Street, on October 24, 2016 at 7:30 p.m.
NEWS (CHICAGO, Ill.) -- Riverpool Records and The PondHawks announce the release of the new focus track, "Wire Me" from the album "Blue Light." The up-and-coming indie band is making waves not only on the radio, but also in U.S. music-loving social media. They have a quarter of a million likes on Facebook and thousands of followers on Twitter, MySpace and Reverbnation.