News: Television and Video
Home
News: Television and Video
Television News, Cable Industry, Video Disc, On-Demand and IPTV News
eNewsChannels NEWS: (LOS ANGELES, Calif.) -- Long time LACC basketball coach Michael Miller is hosting his own live TV show "Time Out with Coach Miller." Coach Michael "Mike" Miller who broke numerous national records as head basketball coach at Los Angeles City College (LACC) is tearing it up in the world of live television with his new show "Time Out with Coach Miller" seen live twice a month.
CARSON CITY, Nev. -- The creators of the hit television show "Empire" may be facing some hard questions from author Eugene L. Weems, Founder of Celebrity Spotlight Entertainment LLC and author of the blockbuster book "Empire: Cookie's Revenge" (ISBN: 978-1515335917). Weems is claiming Co-Creators Lee Daniels and Danny Strong have allegedly based the second season of the "Empire" show on Weems' book and have also "stolen" his idea of creating a spinoff television series about the upbringing of Taraji P. Henson's Cookie Lyon character.
NEWS: As an African American dog photographer, director Foster Corder has always had a special affinity and vision for animals. Over the years, his photographic and film contributions have laid the groundwork for some of the most prominent canine experts in the field. With his two hit web series 'Foster's Animal World TV' and 'Conversations with a Pit Bull' he has solidified himself as a preeminent voice for thousands of dogs, particularly those abused and in the shelters.
NEWS: Bob Phillips will no longer be traveling alone on the popular TV series, 'Texas Country Reporter' (TCR). Beginning this September Kelli Phillips will join TCR and travel the back roads of Texas with Bob.
NEWS: Bio Recovery, one of the nation's leading crime scene cleanup companies, granted access to a local film/TV producer who recently submitted a sizzle reel to the 360-Degree Unscripted Development Pipeline, an AandE Network, that seeks new talent for its television show pipeline. They are excited to announce that they are a finalist.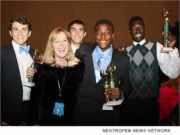 SAINT CLOUD, Fla. /eNewsChannels/ -- NEWS: Lads to Leaders (L2L) invites parents and their children to watch 'The Best Kept Secret' and learn how they can become involved in the best training program in America. A documentary was produced about the program and the founder Dr. Jack Zorn. It will be shown nationally April 25, 2015, on DISH channel 266, Angel Two.
SOUTH LONDONDERRY, Vt. /eNewsChannels/ -- NEWS: The Cabin Kings of the popular National Geographic reality TV program, 'Building Wild,' have joined forces with Jamaica Cottage Shop to build one of their 20x30 rough cut timber frame cabin kits - also known as the sugar shack. The show is expected to air on April 7, 2015.
BURBANK, Calif. /eNewsChannels/ -- NEWS: Casting is the backbone of all great reality shows and veteran TV casting agent Jacqui Pitman knows casting. She is a true behind-the-scenes powerhouse when it comes to finding the perfect people for the perfect parts. Her agency, Pitman Casting, is a full service, reality television casting company that has provided talent for some of TV's hottest shows. Now the veteran casting director is on the search for reality TV's next 'It' couple.
DALLAS, Texas /eNewsChannels/ -- NEWS: The Lone Star Emmy Chapter announces Terry Markis as their new Executive Director. Markis has been with the organization as the Chapter Administrator since January 2005. She fills the position previously held by Misti Torres McCarty, the chapter's longtime Executive Director, who passed away in 2013.
DURANGO, Colo. /eNewsChannels/ -- NEWS: According to a new market research study from The Insight Research Corporation, U.S. Cable MSOs are on track this year to reach $8.8 billion in annual revenues providing telecommunications services to small and medium-size businesses, despite competition from entrenched telco providers, who have owned this segment for the past thirty years.