Home
News: Women's Interest
Women's Interest News and Feature Stories
eNewsChannels NEWS: (MIAMI, Fla.) -- On November 12, 2016 professional women in South Florida and surrounding areas will gather together at White Hall Miami in Sunny Isles Beach for the second annual Tips and Tea Professionals' Night Out. Produced by Ameliorate Strategies and Development Group LLC, Tips & Tea is an exclusive event coordinated for the personal development and professional advancement of women from all backgrounds, industries, and affiliations.
eNewsChannels NEWS: (LAS VEGAS, Nev.) -- The Next Female Superstar Series Corporation (TNFSSC) has green-lit "The Next Female Superstar(R)," an all-female reality singing competition series that focuses on digital artists' audition video uploads and live-streaming auditions which stream from TNFSSC's patent-pending Superstar Kiosks(TM) located in one of their local malls.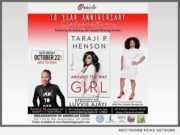 eNewsChannels NEWS: (WASHINGTON, D.C.) -- Literary PR & Marketing Firm, The Oracle Group International announces that in celebration of their 10th year in operation, they will host the Washington D.C. "Homecoming" book tour stop for Award Winning Actress and now Author Taraji P. Henson on Oct. 22, 2016.
eNewsChannels NEWS: (TORRANCE, Calif.) -- DocMagic, Inc., the premier provider of fully-compliant loan document preparation, compliance, eSign and eDelivery solutions, announced that its chief legal officer, Melanie Feliciano, Esq., has earned a spot on the MReport's 2016 "Leading Ladies" in Mortgage and Housing list for the second year.
HARDY, Ark. -- As many as 100 former YWCA Camp Miramichee campers will gather at the site of their old camp September 16-18, 2016, to celebrate the venerable summer girls camp's 100th birthday, the Camp Miramichee Reunion committee announced today.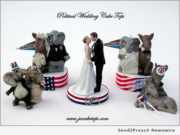 HARLEYSVILLE, Pa. -- Jayne Williams Company of Harleysville, Pa. has created and is introducing several unique wedding cake toppers for political enthusiasts to proudly display their beloved party affiliation or party candidate when celebrating their wedding.
NEWS: Beauty pageants are sometimes criticized for being overly competitive, cut throat and an advantage to the wealthy due to high costs of preparing for and participating in the pageant, says Stephanie Farrell of Miss Greater Bay Area, Calif. California's state pageant, owned and operated by Top 10 Productions of Southern Calif., works with several independent regional directors who host preliminary pageants that qualify contestants for the Miss California USA(R) and Miss California Teen USA(R) pageants.
NEWS: Award-winning documentary producer and author Crystal Emery is launching a new campaign and initiative called 'Changing the Face of Medicine.' Its inaugural event will feature a book signing of her biographical photo essay entitled 'Against All Odds: Celebrating Black Women in Medicine,' which will be held on Tuesday, December 1, 2015.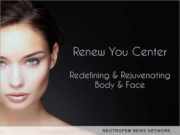 NEWS: Everyone is running back to school specials, but one local women's anti-aging spa, Renew You Center, is excited to announce its September special, 'Back to You.' It runs from Sept. 1-30, 2015.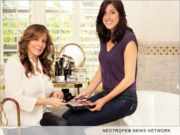 BEVERLY HILLS, Calif. /eNewsChannels/ -- NEWS: Victoria Jackson Cosmetics is proud to announce an exciting brand refresh. Known as The Original 'No Make-up, Makeup'(R), Victoria Jackson Cosmetics has re-launched its website with a brand new look and new products. Victoria's favorites are still available like her 'No Make-up' Foundation Duo, Gentle Eye Makeup Remover, Universal Brow Pencil and the Victoria Jackson Survival Kit(R).