eNewsChannels NEWS: -- Republican Senate Majority Leader Bart Davis of Legislative District 33 was sworn in as U.S. Attorney for the State of Idaho on September 22, 2017, creating a vacancy in the state Senate when Senator Davis resigned on September 21, 2017, the Bonneville County Republican Central Committee announced today.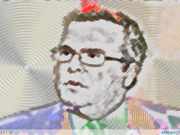 OPINION: Jeb Bush, a millionaire with a rich kid's typical anti-humane views, wants to be the American Taliban party candidate for president. To do so, he must win primary votes from a huge gaggle of stupid people. Two GOP insiders show Jeb what he must do to properly 'stupidize' his already odious views.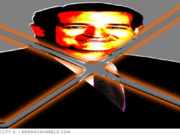 OPINION: The clown car carnival is upon us! Yes, the brigade of braggarts hoping for the GOP presidential nomination is swarming across the country (or at least the states with Republican primaries). It appears that many of the buffoons have not yet formulated their campaign slogans. We're here to help.
OPINION (by John Scott G): Here at the headquarters of the Anti-Conservative Team, we were fortunate to gain an interview with two of the GOP's behind-the-scenes operatives, men who eschew publicity because of their ties to the Koch brothers' evil empire of anti-Americanism.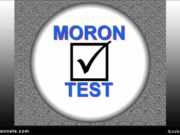 OPINION: There are many reasons people vote Republican besides stupidity and racism. With so much doubt and confusion swirling around "the moron party," we thought it was a good time to provide this little test. You can try this quick and easy examination for yourself as well as give a copy to close family members, friends, coworkers, neighbors, and that weird uncle who always ruins your family gatherings by spouting rightwing nutjob nonsense he heard on "the Fox News."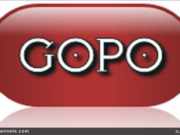 OPINION: Are you running for public office in a district full of incredibly dim-witted people? Hello republican candidates! Worried about attracting a large number of moron voters? Not to worry, GOP Outfitters is ready to serve you.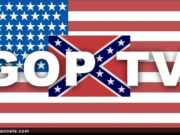 OPINION: After a friend wrote me about seeing a TV show called 'Focus on New Mexico,' we both started wondering if GOP-controlled states have similar programs. Of course they do! Let's take a peek at the outline for one of their offerings.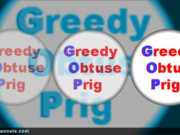 OPINION: Republicans have long ceased to be the Grand Old Party, if that term ever applied to them, and therefore we are announcing a contest to re-brand republicans with an appropriate moniker.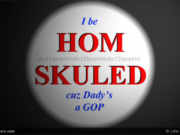 OPINION: Let's say you are a moron and a member of the treason party. Oh I'm sorry, let me make that easier to understand: Let's say you are a republican. And let's say you want to indoctrinate your progeny in private. Oops, sorry again, I mean: Let's say you want to home school your kids. Are you ready for the challenge?
REVIEW: A newcomer to American politics would write off the Republican Party as a gang of xenophobic, racist, theocratic, misogynistic, fiscally irresponsible war-mongers. In "Rule and Ruin," Geoffrey Kabaservice explains how and why this happened.