OPINION: Everyone makes New Year's resolutions but nobody keeps them for more than a couple of days. Or twenty-four hours. Or twelve seconds. But it's good to try so let's have a go at it in this special column just for people most in need of a moral imperative: Conservatards.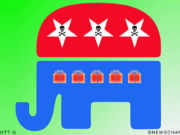 OPINION: Ho, ho, ho, and a very merry non-denominational celebration of Saturnalia to you! (Note: the traditional name of the giftageddon that takes place during the winter solstice has been changed to reflect the author's self-proclaimed status as an honorary colonel in the War on Christmas.)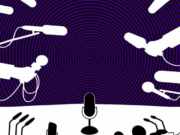 OPINION: We are witnessing a media meltdown in the wretched coverage of the 2016 presidential race. Substance and policy positions are ignored in favor of demagoguery, bombast, stunts, and stupidity -- and America is the worse for it.
OPINION: In literature and the movies, there is a romantic haze surrounding the silver-tongued con man but the reality is grittier: the bilker filches money from the innocent or unwary. When such a flim-flam man runs for president, the whole country should be alarmed. Meet Mike Huckster.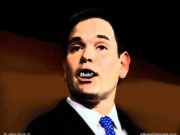 OPINION (by John Scott G): Professional know-nothing Marco Rubio is attractive to people of impaired cognitive reasoning but everyone else recognizes he is unfit for public office. In a surprising turn of events, teachers across America offer helpful advice on behalf of his joke candidacy for president.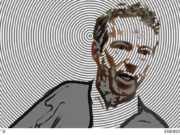 OPINION: When rightwing radical Rand Paul added his name to the GOP clown car cavalcade of presidential candidates, racists everywhere rejoiced. But psychiatric experts are worried that Paul's behavior indicates mental instability.
OPINION: A large number of people are being used as unpaid 'volunteers' in what might be called The Termination of Life Project and older generations need to apologize to everyone under 18 for creating conditions that will slowly, inexorably eat away at their lives.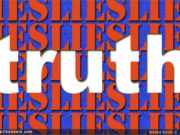 OPINION: Every day from now until the GOP's anti-American political convention in the summer of 2016 there will be horrifying speeches delivered by egomaniacs who are hoping to be anointed as the leading rightwing nutjob. What if their bloviating contained statements of truth instead of the standard conservative lies?
OPINION: The policies, positions, and practices of Conservatives can be immensely helpful to you -- assuming you're a wealthy person or a corporation. But for the vast majority of people, Conservatism is an evil pestilence that leads to pain, disease, starvation, and the breakdown of everything valuable that should accrue to you from living in a civilized society.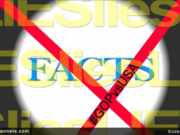 OPINION: The conservative cabal is wide-ranging and well-funded. Collaborating with their primary co-conspirators in the GOP, conservatives are working hard to destroy everything good and decent about the United States of America. #GOPvsUSA